Nicole Bridgeman has risen to the pinnacle of kata in Australia. On Sunday 10th August 2008 Nicole became West Australia's first National Senior Kata champion. This title had eluded her since she was 16 years old. It was an outstanding achievement when Nicole won in front of her home crowd in Perth.
Prior to joining Yoseikan-Ryu Karate Nicole, as a three year old, could be seen at the side of the dojo mimicking the older students. Branco would not let her join because she was too young. Nicole commenced her karate training on January 18th 1994, she was 5 years and 10 months old. From her very first lesson it was obvious that Nicole had something special. She was a perfectionist by nature and would never settle for second best. She was a champion in the making.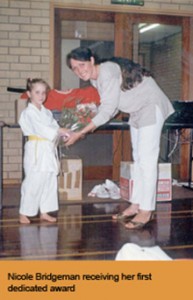 Over the years Nicole has won many National Junior titles and several Oceania titles. In 2005 Nicole won gold at the Commonwealth Karate Championships in New Zealand. The favourite competitor was an English opponent. This did not appear to concern Nicole. Her ability to stay focussed under pressure was well known. This was Australia's first Commonwealth Kata title.
Branco gave Nicole opportunities to train with specialist coaches such as, Jean-Marc Shedel (Switzerland) Junior Lefevre (Belgium) and Con Kassis (World Kata Judge Australia). All these coaches have made a contribution to her development.
Nicole, apart from being a champion, is an outstanding instructor and coach. Yoseikan-Ryu Karate encourages excellence. It also encourages the sharing of knowledge. Nicole has had a major influence on the development of Yoseikan-Ryu's National kata champions Matthew Brown and Andrew Bromwich. There are so many students who have benefited from Nicole's enthusiasm for teaching.