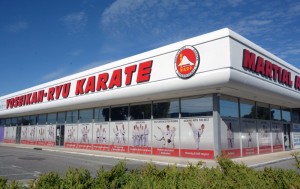 The new state of the art training centre of Yoseikan-Ryu Karate was officially opened on the 23rd of July, 2016. A lifelong dream of Chief Instructor, Branco Bratich, the Hombu Dojo came together with the help of many people. The Hombu Dojo is easily one of the best equipped karate training centres in Australia.
The 'Hombu Dojo', or headquarter dojo of Yoseikan boasts a modern fitness centre designed by Mitchell Johnson, cricket legend and Brian Bratich. It also has two training areas; one traditional and one modern. The Hombu Dojo also has a martial arts shop as well as a fully equipped kitchen and meeting area.
We welcome people to come and visit the Dojo during opening times and we will gladly give you a tour. Even if you're not sure about karate classes, Yoseikan-Ryu Karate offers Ju-Jitsu, Cardio Fit classes and Tiny Tots Karate for your pre-schooler.
Parents are invited to use our fitness centre FOC while their children do the class. Please check the for class times via this link: CLASS SCHEDULE 2020