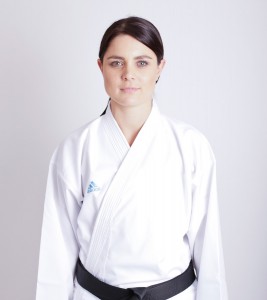 Jessica Bratich-Johnson was born to compete. One of her earliest memories was seeing her father Branco Bratich win the 1985 National Heavyweight title. She said to her father, "Daddy win for me." These few words were all the motivation he needed.
Jessica is a well-adjusted young lady who has been exposed to the positive environment that karate can offer. There was never any pressure put on Jessica to do karate or compete. Jessica's decision to compete was a personal decision. She began karate training at the age of eight for fun. Jessica competed in many local tournaments developing her experience. Her goal was to win more medals than her father.
Jessica's first National competition was at the 1994 Australian Open where she lost on contact in the semi-finals and ended up with a bronze medal missing out on National team selection. This result was disappointing for Jessica and motivated her to come back and compete at The National Championship and won gold in the girls 13 years kumite.
In 1995 Jessica was selected for the junior National Team for the first time to compete in Hungary where she was placed 3rd out of 96 competitors. Her first international experience was very different for her as some of the rules and conditions were not what she was used to.
Luck has not always gone her way. In 1996 at the Junior World Karate Championships, South Africa, Jessica was fighting in her individual division. She was leading 5-3 when suddenly the scorer's table reversed the scores. Branco (who was National coach at the time) could not complain because no coaches were allowed on the floor. Even under these conditions Jessica fought back equalising the score. Both girls hit each other simultaneously. Jessica's opponent hit the deck while Jessica stood her ground even though she was bleeding. Jessica was disqualified. Jessica had been trained to stand her ground and was not going to fall now no matter what the cost.
Branco decided to give Jessica a berth in the girl's team event. He realised at the time that this would cause some dissatisfaction with the other girls. His decision was vindicated when Jessica was the only girl in the team who did not lose a fight winning the first fight 7-0 against the bronze medalist in her individual event. The team went on to win gold.
In 1997 she attended the Hayashi-Ha World Championships in Florida USA. Although winning a silver medal in the individual division and a gold medal in the team event, Jessica was dissatisfied and rather confused when the referee of the final fight apologised to her when presenting her medal. She was also awarded the most outstanding competitor of the year, which lifted up her spirits after her disappointment in the individual final.
Jessica went to Greece in 1998 and was placed 3rd in her division losing to the winner of her division.
In July 2001 Jessica attended her first senior international competition, the Ladies International Cup in Japan. Jessica was very busy at this tournament entering in her weight division, the women's open and the team event. She won her first fight in her weight division and lost her second to Japan. In the Open Division Jessica won a bronze medal. She won all her fights in this event up to the semi finals where she lost to Slovakia. She then had the chance for 3rd place fighting the repercharge and won. This experience was a positive one as it convinced Jessica that she was up there in terms of world level competitors. Jessica then went on to compete in various other National and international events and continued to add to her medal tally. Jessica's most outstanding and memorable achievement was at the 2006 World Championships in Finland. She placed 3rd in her over 60kg weight category narrowly losing to L. Fisher of France (former World Champion) in the semi finals in enchosen (overtime) in a split decision. She then went on to beat New Zealand in the Repercharge for taking home the bronze medal.
Jessica's achievements have not been easy due to the added pressure of her father being national coach till 2005. This taught Jessica to trust in her own ability as a fighter and not rely on having he coach in the chair, purely cause her father was unable to coach her at local, state and national events as he was responsible for team selection and would have been a conflict of interest. "My karate achievements can be attributed to my father who has allowed me to find and trust in myself as a competitor, he has provided me with both the physical and metal training I have needed to achieve my goals."
After the World Championships Jessica followed her heart and moved to Brisbane for almost two years to be with her boyfriend, up until last year where they both moved back to Perth. Moving back to Perth has enabled Jessica to pick up her training and teaching again.
Jessica has had a phenomenal tournament career. She has won an incredible 30 National first places and 14 International medals. It is doubtful if any other Australian has achieved such results. Jessica is not only an outstanding fighter she is a born teacher. She teaches five nights a week and loves helping her students achieve their goals whether it is in class or at a competitive level.